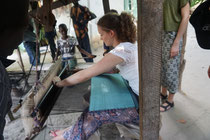 Dear followers, 
The first week is already finished, which makes it time for our first blog post! Quoting Barbara, we were put in a cooking pot from which the lid was closed. The name of the cooking pot is 'The Gambian live'. 
It was a busy week, but very valuable with a lot of different impressions. We visited a lot of schools, museums, markets, the country side and so on. The most valuable experience was joining a Gambian during his or hers daily life. We met their family and learned a lot about the culture and mindset of the Gambian people. The country is called 'the smiling coast of Africa ' for a reason. 
Besides having fun, we also had a meeting with YEP-Gambia. Which is a organization that focusses on the development of the youth of The Gambia. They had a lot of valuable information for us and we are looking forward to our cooperation with them. Tomorrow we will visit the first skill-centre and we are very excited about this! We are certain that we will be given a warm welcome, just like the entire country gave us during this first week.
Due to a lack of internet connection, blogging is difficult. But we will keep you all posted as often as we can! More pictures  will follow later, when the internet connection is better.
Arlma yea lom nenama stot (have a nice day), 
The Mala Team